New Ally, New Problem
Talk

2
4,938pages on
this wiki
Dragon Ball Z episodes
New Ally, New Problem
New Ally, New Problem (悟空が大接近! フリーザの包囲網をぶち破れ, Goku ga Daisekkin! Furiza no Houimou wo Buchiyabure) is the twenty-seventh episode of the Namek Saga and the sixty-second overall episode in the uncut Dragon Ball Z series. The episode first aired on September 19, 1990. Its original American air date was February 14th, 1998.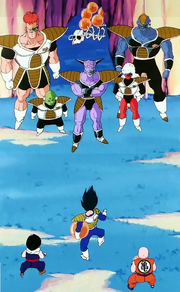 Frieza tells the Ginyu Force their mission: find the Dragon Balls and capture Vegeta. The Ginyu Force check their scouters and track Vegeta, along with two other sources of high energy. Frieza informs them that it is just two weaklings from Earth. Guldo remembers when Vegeta insulted him on one of Frieza's planets. He almost attacked Vegeta, but Frieza had blasted him from behind and stopped him from doing it. Guldo begins to taste revenge, as the Ginyu Force perform a routine warm up and take off to fulfill their mission.
During Guldo's flashback, Vegeta does not have his tail (or the tail is not seen).