Nicktoons (formerly called Nicktoons TV and Nicktoons Network) is an American digital cable and satellite television network owned by Viacom. It is a sister service of the Nickelodeon cable channel.
Overview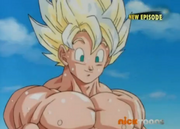 The network broadcasts Nickelodeon's animated series, Nicktoons, along with other original animated series and foreign animation from other Nickelodeon networks overseas 24 hours a day. The current network slogan is "Action To The Maxtion" while, at the time of Nicktoons run of Dragon Ball Z Kai , the slogan was "Big Stars, Animated." Nicktoons aired Dragon Ball Z Kai episodes, which made their English premiere on Nicktoons. Dragon Ball Z Kai first aired on Nicktoons on May 24, 2010 and the final episode aired on January 1, 2012. Nicktoons started airing Dragon Ball Z movies on September 14, 2011 with Dragon Ball Z: Broly - The Legendary Super Saiyan. Nicktoons aired Dragon Ball GT on January 16, 2012 at 7PM/EST.
Gallery
External links
Ad blocker interference detected!
Wikia is a free-to-use site that makes money from advertising. We have a modified experience for viewers using ad blockers

Wikia is not accessible if you've made further modifications. Remove the custom ad blocker rule(s) and the page will load as expected.