"Excellent. They both seem to be in perfect working order."
— Dr. Gero after awakening androids 17 and 18
Nightmare Comes True (そして恐怖が現実に... 目覚める17号と18号!!, Soshite Kyofu ga Genjitsu ni... Mezameru Ju-Nanago to Ju-Hachigo!!) is the eighth episode of the Androids Saga and the one hundred thirty-third overall episode in the uncut Dragon Ball Z series. The episode first aired on April 1, 1992. Its original American air date was September 25, 2000.
Summary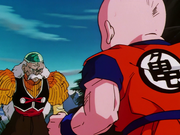 As they search the Northern Mountains for Dr. Gero's laboratory, Future Trunks tries to warn a stubborn Vegeta that the Androids are more powerful than he realizes. Meanwhile, the remaining Z Fighters arrive at North City and decide to split up in their search. Krillin is attacked by Dr. Gero, but manages to follow him to his laboratory and signals the others. While the Z Fighters try to break in, Dr. Gero activates Android 17 and Android 18, who are not inclined to be under his control.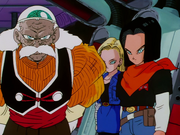 Meanwhile, Bulma and Yajirobe tell Gohan to take them home. When Bulma mentions Goku, Gohan realizes that checking on Goku and seeing if he is okay is urgent and he then flies away at high speed with Bulma and Yajirobe still on his back.
Major Events
Androids 17 and Android 18 are released.
Quotes
"How many times do I have to tell you before it sinks into your thick skull? Never underestimate the power of the androids!"
— Future Trunks
"What have you done!? You dare to defy me!? I gave you life!!"
— Dr. Gero
Trivia
Gallery