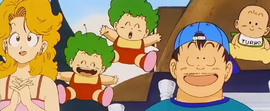 The Norimaki family is a family residing in Penguin Village. They were the primary main cast to Dr. Slump, but are merely background characters in Dragon Ball. Most of the extended members of the Norimaki Family are shown to be adopted or created by Senbei Norimaki.
Family members
Invented members
Adopted members
Pets
Extended members
Gallery
Ad blocker interference detected!
Wikia is a free-to-use site that makes money from advertising. We have a modified experience for viewers using ad blockers

Wikia is not accessible if you've made further modifications. Remove the custom ad blocker rule(s) and the page will load as expected.