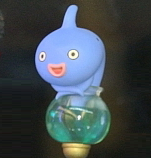 There is currently a total of 1 Oracle Fish [予言魚] (also known as Yogengyo and Prophecy Fish) collectible that has been released to date. A gallery and the attached information appends to the official release and genuine specifics in regards to the additional merchandise pertaining to each release.
Banpresto

DWC Battle of Gods Vol. 3
Release date: 2014
This upcoming DWC series is to incorporate a few characters appearing in the Battle of Gods movie. This set was announced and images of the pieces were made available on September 5th, 2013. The release date for these figurines is in February, 2014. Those included in this set are Android 18 with Marron, Bills, Oracle Fish, Piccolo, Mr. Satan, Master Roshi, Goten, and Krillin.
Gallery
Ad blocker interference detected!
Wikia is a free-to-use site that makes money from advertising. We have a modified experience for viewers using ad blockers

Wikia is not accessible if you've made further modifications. Remove the custom ad blocker rule(s) and the page will load as expected.