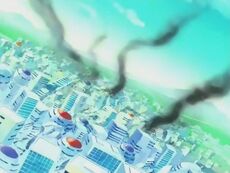 Parsley City (パセリシテイ) is a town located southeast of West City, in BBN point 49.[1]
Future Android 17 and Future Android 18 attack Parsley City in the alternate timeline. After having returned to his timeline from training in the present (main timeline), Future Trunks destroys both Androids in this city.
References
Edit
Ad blocker interference detected!
Wikia is a free-to-use site that makes money from advertising. We have a modified experience for viewers using ad blockers

Wikia is not accessible if you've made further modifications. Remove the custom ad blocker rule(s) and the page will load as expected.