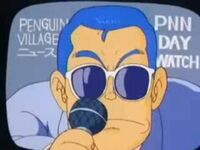 The Penguin News Network is the news broadcast in Penguin Village. Kenta Kuraaku (who is secretly Sourman) is the main anchor for the broadcast. Akane Kimidori and Tsukutsun are watching it when he reveals that the Red Ribbon Army is in Penguin Village. He is also heard giving an interview to Jay Davy, whose brother's best friend knew someone who thought about joining the Red Ribbon Army and wrote a book about it.
Ad blocker interference detected!
Wikia is a free-to-use site that makes money from advertising. We have a modified experience for viewers using ad blockers

Wikia is not accessible if you've made further modifications. Remove the custom ad blocker rule(s) and the page will load as expected.