Perfect Body is the third level of the Android Saga in Dragon Ball Z: Budokai Tenkaichi 3.
Plot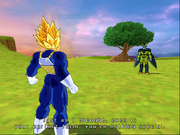 After achieving his perfect form, Cell fights Vegeta and proves his powers have exceeded his. Vegeta uses the Final Flash knowing it is the only thing that can stop Cell, however, Cell survives the attack and defeats Vegeta. Trunks transforms into a 3rd Grade Super Saiyan but still is not powerful to defeat Cell and accepts defeat.
Characters
Perfect Cell
Super Vegeta
Super Trunks
Gallery
Ad blocker interference detected!
Wikia is a free-to-use site that makes money from advertising. We have a modified experience for viewers using ad blockers

Wikia is not accessible if you've made further modifications. Remove the custom ad blocker rule(s) and the page will load as expected.