Piccolo Reborn! Frieza's Second Transformation!
Talk

0
Share
Piccolo Reborn! Frieza's Second Transformation (The Reborn Piccolo Shows Himself! An Enraged Frieza's Second Transformation) is the thirty-ninth episode of Dragon Ball Z Kai. The episode first aired on January 10, 2010. Its original American air date was October 27, 2010.
Plot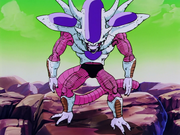 Piccolo, armed with the strength of two Namekian warriors, begins to battle Frieza, and the two are evenly matched. However, Piccolo realizes that Frieza has a slight upper-hand, so he removes his weighted training gear and begins winning the battle. Backed into a corner, Frieza transforms into his third form, and the battle completely turns tides. Frieza begins attacking Piccolo with a rapid finger beam blast, and Gohan rushes to rescue his mentor. Krillin begins to follow suit, but Vegeta stops him, revealing that he may have a strategy to defeat the tyrant.
Gallery
| | |
| --- | --- |
| | Frieza Saga |
| Anime | Frieza Closes In! Mighty Porunga, Grant Our Wish! • A Nightmare Transformation! Frieza's Power-Level One Million?! • Frieza Bares His Fangs! Gohan's Overwhelming Attack! • Piccolo Reborn! Frieza's Second Transformation! • Frieza's Final Transformation! The Ultimate Nightmare Begins! • The Moment of Truth Approaches! Goku Back in Action! • Defeat Frieza, Goku! The Tears of the Proud Saiyan Prince! • Goku vs. Frieza! The Super Showdown Begins! • A Boundary-Pushing Brawl! Goku, Frieza, and Ginyu Again?! • Kaio-Ken Times Twenty! An All-or-Nothing Kamehame-Ha! • The Final Trump Card! Goku's Ultimate Spirit Bomb! • Awaken, Legendary Warrior! Goku the Super Saiyan! • The Angry Super Saiyan! Goku Throws Down the Gauntlet! • Avenge the Fallen, Goku! Countdown to the Planet's Destruction! • Full-Power Frieza! Shenron, Grant Our Wish! • Goku's Furious Roar! A Last-Minute Resurrection Wish! • Duel on a Vanishing Planet! The Final Showdown! • Goku's Final Attack! Countdown to Planet Namek's Destruction! • Goku Vanishes Into Space! Welcome Home, Super Warriors! |
| Manga | Nail's Sacrifice · The True Dragon God · The Three Wishes · The Last Wish · The Assimilation · The Transformation · Freeza vs. Gohan · Freeza vs. Gohan, Part 2 · The Fourth Warrior · Freeza vs. Piccolo · Freeza vs. Piccolo, Part 2 · Freeza's Third Form · Vegeta's Ploy · The Final Transformation · Will It Be Freeza? Or Vegeta? · Son Goku... Resurrected!! · The Ultimate Battle Begins! · The Death of Vegeta · Underwater Battle · Aerial Battle · Hand to Foot · 50% Maximum Power · Kaiō-ken times 20!!! · The Great Genki-Dama · The Last Chance · The Galaxy Strikes Back · Life or Death · The Super Saiyan · The Tables Turn · The End of Namek? · Maximum Desperation · Two Warriors, One Finish · The Two Wishes · The Quiet, Fierce Battle · Son Goku Quits · Son Goku's Choice · The End of Everything · Namek's End · Where is Goku? |