This article is about the Battle Stage in Budokai Tenkaichi 2. For the list of planets, see List of Planets.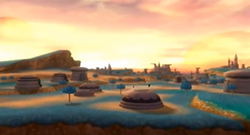 Planet is a battle stage in the video game Dragon Ball Z: Budokai Tenkaichi 2. The stage is featured in evening and night settings, and looks like the surface of Planet Vegeta (evening) or Planet Frieza 79 (night), with buildings and trees that can be destroyed.
Gallery
Ad blocker interference detected!
Wikia is a free-to-use site that makes money from advertising. We have a modified experience for viewers using ad blockers

Wikia is not accessible if you've made further modifications. Remove the custom ad blocker rule(s) and the page will load as expected.