Ad blocker interference detected!
Wikia is a free-to-use site that makes money from advertising. We have a modified experience for viewers using ad blockers

Wikia is not accessible if you've made further modifications. Remove the custom ad blocker rule(s) and the page will load as expected.
Directory: Techniques → Offensive techniques → Energy waves
Prelude to Destruction (破壊の序曲) is a blue energy wave attack used by Whis. Two versions of the attack exist: a Finger Beam version and an Energy Sphere version.
Overview
In the Finger Beam versions, Whis holds out the index finger of his right hand and fires a light blue to bluish-green energy wave from his fingertip.
In the Energy Sphere version, Whis creates a blue energy sphere which he fires from both hands at his opponent.
Appearances in games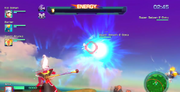 Prelude to Destruction was named in Dragon Ball Heroes, Dragon Ball Heroes: Ultimate Mission, and Dragon Ball Z: Battle of Z, where it is Whis' super attack and Blast Spark. In the latter, it is the blue Energy Sphere version which is used, rather than the Finger Beam version.
In Dragon Ball: Xenoverse, Prelude of Destruction is Whis' Super Skill and takes the form of an bluish-green Finger Beam which is powerful enough to knock back opponents and causes a decent amount of damage, though this is offset by its somewhat slow startup. The Future Warrior can also obtain this skill as a reward in Parallel Quest 43: "Old Rivals and Dragon Balls". It is also used as Whis' Super Attack in Dragon Ball Z: Dokkan Battle.
Gallery
References