Pressure Point Attack
Talk

0
4,914pages on
this wiki
Directory: Techniques → Offensive techniques
Pressure Point Attack is a technique which, by touching certain pressure points on an opponent's body, can incite effects such as paralysis. Enough prolonged pressure on the pressure points can also kill the opponent.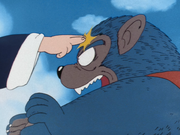 Mercenary Tao uses this technique with his tongue to kill General Blue (Shitatsuki), and with his index finger to kill the tailor he forces to repair his outfit (Yubitsuki). He also uses it in the movie Dragon Ball: Mystical Adventure, also to kill Blue.
Master Roshi uses a Pressure Point Attack as Jackie Chun during the 22nd World Martial Arts Tournament to paralyze Man-Wolf. To do so, Roshi jabs Man-Wolf in the forehead with two fingers (Kanashibari no Jutsu).
Goku uses a Pressure Point Attack during the 23rd World Martial Arts Tournament preliminaries to knock out King Chappa by using a single chop to the neck.
In the movie Dragon Ball Z: Battle of Gods, the God of Destruction Bills defeats Super Saiyan 3 Goku with a Pressure Point Attack during their confrontation of King Kai's planet, making him unconcious and reverting him back to his base form. On Earth, he uses chopsticks to perform two swift pressure point strikes on Piccolo, rendering him unconscious as well. He later uses a Pressure Point to knock Vegeta out after the latter's angry attack.
References
Edit