Princess Snake (episode)
Talk

0
4,938pages on
this wiki
Dragon Ball Z episodes
Princess Snake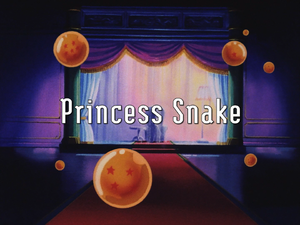 Princess Snake (あま〜い誘惑! 蛇姫さまのおもてなし, Ama~i Yuwaku! Hebihimesama no Omotenashi) is the fourteenth episode of the Vegeta Saga in the uncut Dragon Ball Z series. The episode first aired on August 2, 1989. Its original American air date was November 8th, 1996.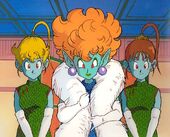 Gohan, still being chased by the quickly tiring Sabertooth Tiger, witnesses Piccolo honing his powers by levitating rocks and boulders, and creating a gigantic controlled whirlwind that manages to rotate a whole circle of land in a complete 360 degree circle.
Krillin, Yamcha, Tien Shinhan, Chiaotzu and Yajirobe gather at Kami's Lookout and begin their training. Meanwhile, Goku continues to tread the Snake Way from the beginning, where he encounters a castle on one side that wasn't there before. Inside, he meets the beautiful Princess Snake and her attendants, who are immediately smitten with him. She tries to ply him with food, dance (Goku thinks the Tango is a form of martial arts) and a hot bath, but, when none of these stop him from trying to continue along the path, she plays her ace card: a sleeping potion.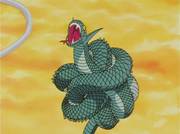 A magical mirror shows that his dreams are only of Chi-Chi and Gohan. Spurned, she reveals her true form, an evil princess that tempts travelers along the Snake Way. Goku narrowly escapes the castle, which, after the illusion is dropped, turns out to be the goddess' true body: a monstrous fire-breathing snake. As she pursues him a while on the Snake Way, Goku manages to tangle her up into a knot and continues along the million-mile path.