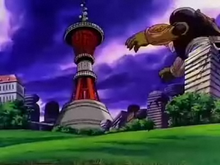 Randosel Town is a town in the vicinity of Satan City.[1] It appears in the movie Dragon Ball Z: Wrath of the Dragon.
History
The town's bank was attacked by two men, who are stopped by Videl on Route 81. Later, Gohan and Videl meet Hoi here. The Z Fighters fight Hildegarn here. The Randosel Tower is destroyed by the monster, who then transforms into his final form.
Trivia
Randosel Town's name comes from the Japanese word for "backpack", randoseru (ランドセル).
References