Rebellion Edge (リベリオンエッジ, Riberion Ejji) is a technique based on Ki used by Bardock Xeno in his Super Saiyan 3 form.
Overview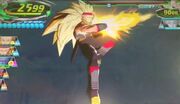 Super Saiyan 3 Xeno Bardock creates yellow Ki energy swords in both of his hands and ascends to the sky, then he goes all out spinning towards and slashes the opponent with them.
Variation
Video Game Appearances
Rebellion Edge made its debut and was named in Dragon Ball Heroes.
Gallery