Directory: Characters → Villains → GT villains → Machine Mutants
"Why can't we kill him commander? It isn't fair! It is like an itch you cannot scratch!"
— "Unexpected Power"
Ribet (リベト) is a Machine Mutant who, along with his partners Nezi, Natt and Bizu, make up General Rilldo's top mercenary team, the Sigma Force.
History
Along with the other mercenaries Nezi, Natt and Bizu, he is usually called upon by Dr. Myuu when he calls for progress and results. Ribet and the others have the ability to fuse their bodies to form the Super Mega Cannon Sigma.
With the death of Natt, Ribet and the others fuse their bodies to beat Goku, but they are easily beaten by him.
Special abilities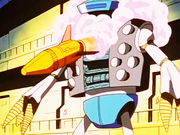 Liquefaction – The ability to liquefy and go through metal.
Super Explosive Wave – A wave of energy more powerful than the simple Explosive Wave. The four Sigma Force members use it in combination during their first encounter with Goku, Trunks, and Pan.
Ribet Rocket – Ribet has a small rocket launcher in its chest cavity which he used against Goku. He calls the name of the attack while performing it.[1] It is simply named Missile in Dragon Ball Z: Dokkan Battle, where it appears as Ribet's super attack.
Super Mega Cannon Sigma – The ability to join with the bodies of the other members of the Sigma Force and fuse into one entity.
Voice actors
Gallery
References