Rock, Scissors 'N' Paper
Talk

8
4,920pages on
this wiki
This article is about the technique. For the decision-making game, see Rock-paper-scissors.
Directory: Techniques → Offensive techniques → Physical techniques
Rock, Scissors 'N' Paper (ジャン拳) is Grandpa Gohan's special attack, as well as Goku's in early Dragon Ball, soon replaced by the Kamehameha for him.
In the original version, the user shouts "Jan Ken", then a name corresponding to the attack: "Gu", equals rock and will be a strong punch. "Chyoki", equals scissors and will be a poke in the eyes. "Pa", equals paper and will be an open palm strike. In censored dubs of Dragon Ball, the scissor part is cut.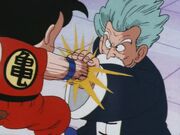 Goku first uses this move against the Bear Thief that wanted to eat Master Roshi's friend, Turtle. Goku then uses it on Yamcha in the Diablo Desert. In the final match of the 21st World Martial Arts Tournament, Goku says "paper" when he actually uses rock, which confuses Jackie Chun. Goku continues to use the technique up to his first fight with General Blue.
Appearances in Video Games
Edit
Rock, Scissors 'N' Paper is one of Kid Goku's techniques in Dragon Ball: Daimaō Fukkatsu, Dragon Ball 3: Gokuden, the Butōden series, and Budokai series.
Goku uses it as part of his Blast 2 technique called Counterattack! and Grandpa Gohan uses it as part of his Turtle School Tranquility technique in the Budokai Tenkaichi series.
Martial Artists can use the attack in Dragon Ball Online.