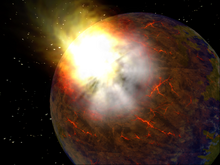 Ruined Earth is a duel map in the Budokai and Budokai Tenkaichi video game series. Its equal is Dying Namek (when fighting on Namek).
Overview
If a different map on Earth is being played on, there are several techniques by many characters that, when performed in certain ways during a match, completely alter the stage of play to Ruined Earth (signifying the major damage capable of being caused by those techniques).
The Ultimate Blast attack has to hit the ground, which will make an explosion cinematic, and then transforming the area. This feature can be disabled.