Sacred Water (episode)
Talk

0
4,914pages on
this wiki
Dragon Ball episodes
Sacred Water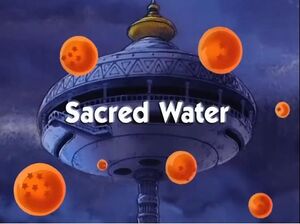 Sacred Water (果して!?超聖水のききめ, Hatashite!? Chōseisui no Kikime) is the fifth episode of the Commander Red Saga and the sixty-second episode in the Dragon Ball series. The episode first aired on May 13, 1987.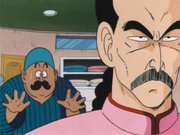 Goku spends two days attempting to steal the Sacred Water from Korin. He succeeds only after heeding Korin's advice to learn to anticipate his actions through his breathing patterns. Goku manages to get the water, and then drinks it, but he feels no different than before. Korin explains to Goku that it was not the water itself that made him stronger, but the effort he expended attempting to get the water. Climbing up and down the tower increased his strength and endurance; learning to anticipate his actions sharpened Goku's mind, and being able to keep up with Korin improved his speed and agility.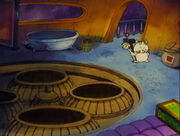 Goku finally understood why Korin had been so stubborn, and, after a brief warm-up, proceeded down the tower to face Mercenary Tao. While he began his descent, Korin predicted that Goku would do great things.
Meanwhile, Tao received his clothes from the tailor. However, when the tailor requested his money, Tao killed him instead.