The Satan City Mayor is the Mayor of Satan City (or Hercule City) who appears in the Dragon Ball Z anime.
Biography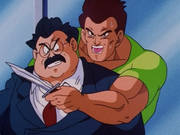 The Satan City Mayor is threatened by the Red Shark Gang and their leader Rock so Mr. Satan would come over to challenge them, as Rock thinks he is much stronger than Mr. Satan. Soon, the Mayor is rescued by Mr. Satan's daughter Videl and the Great Saiyaman (Gohan).
Video game appearance
The Satan City Mayor appears in Dragon Ball Z: Buu's Fury with the same role as in the anime. He is held in hostage by the Red Shark Gang and Gohan must save him.
Ad blocker interference detected!
Wikia is a free-to-use site that makes money from advertising. We have a modified experience for viewers using ad blockers

Wikia is not accessible if you've made further modifications. Remove the custom ad blocker rule(s) and the page will load as expected.