This article is about the
real world.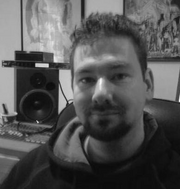 Scott Morgan is an American composer and co-author of the music featured in the FUNimation dub of Dragon Ball Z. He worked directly under Faulconer Productions and the CakeMix Recording studio.
Biography
Scott Morgan began working on the English dub BGM with the Frieza Saga episode "Fighting Power: One Million??", and proceeded to aid Bruce Faulconer with numerous additional tracks onward.
He is currently Microsoft's XNA Professional Gaming Platform Audio Test Lead, overseeing XACT, XAudio1&2, XMV, XHV, XMP, etc. He enjoys "influencing the design of features that enable all games to have better audio on Xbox 360 and PC." In his spare time, he runs a YouTube Channel that goes by the name of "Morganstudios", and can be found on the Dragon Ball Z forum Kanzenshuu posting under the username "cRookie_Monster".
He has also arranged numerous tracks after his work on Dragon Ball Z.
Work on Dragon Ball Z
External links