This article is about the
real world.
Simone D'Andrea (Milan,November 20, 1973) is an Italian voice actor.
He started his career in show business singing in the Boys' Choir of Milan. Belonging all'A.D.A.P.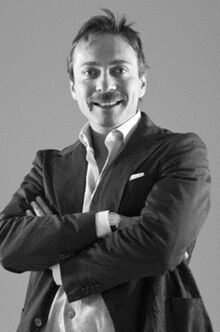 He gave voice to several famous animated characters as Yoh Asakura in Shaman King, Itachi Uchiha in Naruto, Joey Wheeler in Yu-Gi-Oh !, Aster Phoenix in Yu-Gi-Oh! GX, James in Pokémon, Trunks in Dragon Ball Z, Dragon Ball Super and GT, Dick Grayson that the first Robin in the animated Batman series, Heiji Hattori in Detective Conan, Kaito Domoto in Mermaid Melody - Princesses sirens, Masquerade at Bakugan and Takao in Beyblade.
has voiced many American actors.
References 
https://www.antoniogenna.net/doppiaggio/voci/vocisdan.htm
http://www.animenewsnetwork.com/encyclopedia/people.php?id=18128