Directory: Techniques → Offensive techniques → Physical techniques
Skewer! is one of General Blue's special attacks. Blue uses his Look into my eyes! technique on his opponent, which leaves them paralyzed, and then he takes a sharpened tree and slams it into his opponent.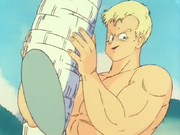 This attack is derived from his attempt to try and kill Goku at Penguin Village. He is stopped when Arale Norimaki attacks him with her Arale Kick.
Skewer! is named in Dragon Ball Z: Budokai Tenkaichi 3, where it is one of General Blue's Blast 2 attacks. Blue also uses it in Dragon Ball: Origins 2. In Budokai Tenkaichi 3, Skewer! is basically the same technique Guldo used against Krillin and Gohan, except Blue physically throws a tree at his opponent instead of throwing via telekinesis. Skewer!, like Guldo Special, is based on a failed attack.
Gallery
Ad blocker interference detected!
Wikia is a free-to-use site that makes money from advertising. We have a modified experience for viewers using ad blockers

Wikia is not accessible if you've made further modifications. Remove the custom ad blocker rule(s) and the page will load as expected.