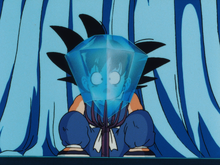 Sleeping Princess (ねむり姫, Nemuri Hime) is a diamond that was kept in the Devil's Castle.
The demon Lucifer wants to use this diamond to power a cannon in his Devil's Castle in order to destroy the Sun. Unaware of the fact that the Sleeping Princess is a jewel, Master Roshi sends Goku and Krillin to retrieve it, thinking it is a pretty girl.
Tale of the Sleeping Princess
Edit
Ad blocker interference detected!
Wikia is a free-to-use site that makes money from advertising. We have a modified experience for viewers using ad blockers

Wikia is not accessible if you've made further modifications. Remove the custom ad blocker rule(s) and the page will load as expected.