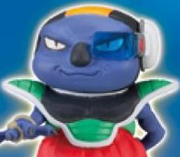 There is currently a total of 1 Sorbet collectible that has been released to date. A gallery and the attached information appends to the official release and genuine specifics in regards to the additional merchandise pertaining to each release.
Banpresto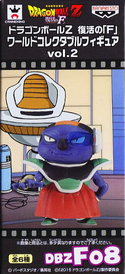 WCF Revival of F Edition Volume 2
Release date: 2015
A set of WCF figures has been announced as an expansion for the "Revival of F" [Fukkatsu no F, or Revival of Frieza] movie scheduled for April, 2015. The release date for this volume 2 set is June, 2015 and the base set incorporates four additional pieces for this set. Included in this Dragon Ball WCF [World Collectable Figure] "Revival of F" series are the following pieces: A) Frieza in his first form, B) Frieza in his final form, C) Tagoma, and D) Sorbet. Each piece stands at approximately 7cm. Each comes atop a round base for this set. Sorbet is seen standing with a smile on his face and one hand kept behind his back as the other is flailing in front. Sorbet is figurine number F08 in the volume 2 set.
Gallery
Ad blocker interference detected!
Wikia is a free-to-use site that makes money from advertising. We have a modified experience for viewers using ad blockers

Wikia is not accessible if you've made further modifications. Remove the custom ad blocker rule(s) and the page will load as expected.