Ad blocker interference detected!
Wikia is a free-to-use site that makes money from advertising. We have a modified experience for viewers using ad blockers

Wikia is not accessible if you've made further modifications. Remove the custom ad blocker rule(s) and the page will load as expected.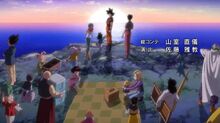 Starring Star (スターリングスター Sutāringu Sutā) is the second ending theme of Dragon Ball Super, playing from episode 13 to episode 25. The song is performed by KEYTALK.
Overview
The theme is performed by the Japanese band, KEYTALK. Its CD single is released in two versions in Japan on October 14, 2015, a regular edition and a limited edition.
Lyrics
Japanese Romaji Lyrics (TV size)
Chiisana sono ryoute ni kakaekirenai yume
koushite ima otona ni natte omoidashiteru
machijuu o tsutsumu kaze ni fuwari notte
(hajimaru sutoorii)
saa tabi ni deyou
sutaaringu sutaa
matataku ma ni hirogaru kiseki mitai na yoru
kono mune ni oboeteru taisetsu na nukumori mo
sutaaringu sutaa
mabayuku furisosogu sutaa kakiatsumetara
kitto ima yori chotto tsuyokunarerutte
omottan da
English Translation Lyrics (TV size)
The dreams that were too big to hold inside those small hands
Now I've grown up and remember them
I gently ride on the winds that envelop the streets
(The story begins)
So let's go on a journey
Starring star
It's a night like a miracle spreading out in the blink of an eye
And the precious warmth I remember in my heart
Starring star
If I gather up the stars that are pouring down with such radiance,
I'm sure I'll be able to get a little bit stronger than I am now
That's what I thought
Japanese Romaji Lyrics (TV size)
小さなその両手に抱えきれない夢
こうして今大人になって思い出してる
街じゅうを包む風にふわり乗って
(始まるストーリー)
さあ旅に出よう
スターリングスター
瞬く間に広がる奇跡みたいな夜
この胸に覚えてる大切なぬくもりも
スターリングスター
まばゆく降りそそぐスターかき集めたら
きっと今よりちょっと強くなれるって
思ったんだ
Gallery