Ad blocker interference detected!
Wikia is a free-to-use site that makes money from advertising. We have a modified experience for viewers using ad blockers

Wikia is not accessible if you've made further modifications. Remove the custom ad blocker rule(s) and the page will load as expected.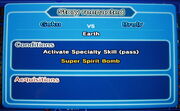 The Story Reenactments are a special bonus that appear in Dragon Ball Z: Budokai 3. In all non-optional battles in Story Mode, the player can unlock them by doing specific conditions in each battle like performing or finish the opponent with certain technique, defeating the opponent within or after a time limit, using or equipping an item, winning with determined health or win by a ringout victory. Most of this conditions are based in events that actually happened in the manga/anime, although the what-if battles also had them. Taking in account all possible battles for each character in their different playthroughs, there are a total of 111 hidden story reenactments (Goku having 21; Kid Gohan, 8; Teen Gohan, 7; Gohan, 10; Vegeta, 20; Piccolo, 18; Krillin, 7; Yamcha, 4; Tien, 6; Uub, 4; and Broly, 6). However, only 20 of the 111 story reenactments unlock exclusive voice clips, while the rest of them only award the player with more Z-points.
List of Story Reenactments
Goku
Opponent
Planet
Saga
Specific Condition
Acquisition of Voice Data
1st Playthrough
Raditz
Earth
Saiyan Saga
Activate Specialty Skill
Yes

Voice Data (original story) No. 00

Yes
Nappa
Earth
Saiyan Saga
Activate Specialty Skill
No, only Z-Points
Yes
Vegeta
Earth
Saiyan Saga
Activate Specialty Skill (Pass)
No, only Z-Points
Yes
Recoome
Namek
Frieza Saga
Win within time limit

30 seconds

No, only Z-Points
Yes
Captain Ginyu
Namek
Frieza Saga
Activate Specialty Skill

Kaioken

No, only Z-Points
Yes
Frieza (Final Form)
Namek
Frieza Saga
Specialty Skill Finish

Kamehameha

No, only Z-Points
Yes
Frieza (100% Power)
Namek
Frieza Saga
Equip Specialty Skill
Yes

Voice Data (original story) No. 05

Yes
Cooler
Namek
Frieza Saga
Activate Specialty Skill

Super Saiyan

No, only Z-Points
No

2nd Playthrough or above

Meta-Cooler
Namek
Frieza Saga
Equip Specialty Skill

Universal Power

No, only Z-Points
No

2nd Playthrough or above

Vegeta (Super Saiyan)
Namek
Frieza Saga
Remaining Health

2000 LP

No, only Z-Points
No

3rd Playthrough or above

Cooler
Namek
Frieza Saga
Win within time limit

40 seconds

No, only Z-Points
No

3rd Playthrough or above

Cell (Perfect Form)
Earth
Android Saga
Activate Specialty Skill
No, only Z-Points
Yes
Vegeta (Majin Form)
Earth
Buu Saga
Activate Specialty Skill
No, only Z-Points
Yes
Majin Buu
Earth
Buu Saga
Activate Specialty Skill
Yes

Voice Data (original story) No. 13

Yes
Super Buu (Gohan Absorbed)

[You fight as Super Vegito]

Earth
Buu Saga
Activate Specialty Skill (pass)
No, only Z-Points
Yes
Super Buu
Earth
Buu Saga
Activate Specialty Skill

Super Saiyan 2

No, only Z-Points
Yes
Kid Buu
Supreme Kai's World
Buu Saga
Activate Specialty Skill (pass)
Yes

Voice Data (original story) No. 16

Yes
Uub
Earth
Buu Saga
Win after time limit passed

60 seconds

No, only Z-points
Yes
Broly
Earth
Buu Saga
Activate Specialty Skill (pass)

Super Spirit Bomb

No, only Z-points
No

2nd Playthrough or above

Gotenks

[You fight as Super Gogeta]

Earth
Buu Saga
Remaining Health

2500 LP

No, only Z-points
No

2nd Playthrough or above

Omega Shenron

[You fight as Gogeta (Super Saiyan 4)]

Earth
Buu Saga
Activate Specialty Skill (pass)
Yes

Voice Data (original story) No. 18

No

2nd Playthrough or above
Kid Gohan
Opponent
Planet
Saga
Specific Condition
Acquisition of Voice Data
1st Playthrough
Piccolo
Earth
Saiyan Saga
Win within time limit

45 seconds

No, only Z-Points
Yes
Goku
Earth
Saiyan Saga
Remaining Health

2000 LP

No, only Z-Points
No

2nd Playthrough or above

Saibamen
Earth
Saiyan Saga
Remaining Health

3000 LP

No, only Z-Points
Yes
Nappa
Earth
Saiyan Saga
Activate Specialty Skill
Yes

Voice Data (original story) No. 03

Yes
Recoome
Namek
Frieza Saga
Activate Specialty Skill
No, only Z-Points
Yes
Frieza (3rd Form)
Namek
Frieza Saga
Equip Specialty Skill

Mixed Blood Power

No, only Z-Points
Yes
Captain Ginyu
Namek
Frieza Saga
Remaining Health

2000 LP

No, only Z-Points
No

2nd Playthrough or above

Cooler
Namek
Frieza Saga
Equip Specialty Skill

Senzu Bean

No, only Z-Points
No

2nd Playthrough or above
Teen Gohan
Opponent
Planet
Saga
Specific Condition
Acquisition of Voice Data
1st Playthrough
Piccolo
Earth
Android Saga
Remaining Health

1000 LP

No, only Z-Points
Yes
Krillin
Earth
Android Saga
Remaining Health

2000 LP

No, only Z-Points
Yes
Yamcha
Earth
Android Saga
Win within time limit

40 seconds

No, only Z-Points
No

2nd Playthrough or above

Tien
Earth
Android Saga
Specialty Skill Finish

Kamehameha

No, only Z-Points
No

2nd Playthrough or above

Goku
Earth
Android Saga
Activate Specialty Skill

Super Saiyan

Yes

Voice Data (original story) No. 10

Yes
Cell (Perfect Form)
Earth
Android Saga
Activate Specialty Skill

Super Saiyan

No, only Z-Points
Yes
Cell (Super Perfect Form)
Earth
Android Saga
Specialty Skill Finish
Yes

Voice Data (original story) No. 11

Yes
Gohan
Opponent
Planet
Saga
Specific Condition
Acquisition of Voice Data
1st Playthrough
Goten
Earth
Buu Saga
Activate Specialty Skill

Super Saiyan

No, only Z-Points
Yes
Videl
Earth
Buu Saga
Activate Specialty Skill

Kamehameha

No, only Z-Points
Yes
Piccolo
Earth
Buu Saga
Activate Specialty Skill

Super Saiyan 2

No, only Z-Points
No

2nd Playthrough or above

Vegeta
Earth
Buu Saga
Activate Specialty Skill

Super Saiyan 2

No, only Z-Points
No

2nd Playthrough or above

Dabura
Earth
Buu Saga
Win within time limit

30 seconds

No, only Z-Points
Yes
Majin Buu
Earth
Buu Saga
Win after time limit passed

60 seconds

No, only Z-Points
Yes
Super Buu
Earth
Buu Saga
Activate Specialty Skill
Yes

Voice Data (original story) No. 15

Yes
Vegeta (Majin Form)
Earth
Buu Saga
Specialty Skill Finish

Kamehameha

No, only Z-Points
No

2nd Playthrough or above

Kid Buu
Earth
Buu Saga
Specialty Skill Finish
No, only Z-Points
No

2nd Playthrough or above

Broly
Earth
Buu Saga
Specialty Skill Finish
No, only Z-Points
No

2nd Playthrough or above
Vegeta
Opponent
Planet
Saga
Specific Condition
Acquisition of Voice Data
1st Playthrough
Goku
Earth
Saiyan Saga
Activate Specialty Skill
No, only Z-points
Yes
Kid Gohan
Earth
Saiyan Saga
Win after time limit passed

60 seconds

No, only Z-Points
Yes
Recoome
Namek
Frieza Saga
Equip Specialty Skill

Desperate Resolution

No, only Z-Points
Yes
Frieza (1st Form)
Namek
Frieza Saga
Remaining Health

2000 LP

No, only Z-Points
Yes
Frieza (Final Form)
Namek
Frieza Saga
Equip Specialty Skill

Dende's Recovery

No, only Z-Points
Yes
Cooler
Namek
Frieza Saga
Win within time limit

45 seconds

No, only Z-Points
No

2nd Playthrough or above

Android 17
Earth
Android Saga
Activate Specialty Skill

Super Saiyan

No, only Z-Points
Yes
Android 18
Earth
Android Saga
Activate Specialty Skill

Super Saiyan

No, only Z-Points
Yes
Cell (Semi-Perfect Form)
Earth
Android Saga
Remaining Health

2500 LP

Yes

Voice Data (original story) No. 08

Yes
Cell (Perfect Form)
Earth
Android Saga
Activate Specialty Skill
Yes

Voice Data (original story) No. 09

Yes
Goku (Super Saiyan 2)

[You fight as Majin Vegeta]

Earth
Buu Saga
Win after time limit passed

60 seconds

No, only Z-Points
Yes
Piccolo (Fuse With Kami)

[You fight as Majin Vegeta]

Earth
Buu Saga
Remaining Health

3000 LP

No, only Z-Points
No

2nd Playthrough or above

Gohan

[You fight as Majin Vegeta]

Earth
Buu Saga
Win within time limit

30 seconds

No, only Z-Points
No

2nd Playthrough or above

Majin Buu

[You fight as Majin Vegeta]

Earth
Buu Saga
Activate Specialty Skill (pass)
Yes

Voice Data (original story) No. 12

Yes
Super Buu (Gohan Absorbed)

[You fight as Super Vegito]

Earth
Buu Saga
Activate Specialty Skill (pass)

Spirit Sword

No, only Z-Points
Yes
Super Buu
Earth
Buu Saga
Activate Specialty Skill

Super Saiyan 2

No, only Z-Points
Yes
Kid Buu
Supreme Kai's World
Buu Saga
Equip Specialty Skill

Saiyan Spirit

No, only Z-points
Yes
Broly
Earth
Buu Saga
Win after time limit passed

60 seconds

No, only Z-points
No

2nd Playthrough or above

Gotenks (Super Saiyan)

[You fight as Super Gogeta]

Earth
Buu Saga
Remaining Health

2500 LP

No, only Z-points
No

2nd Playthrough or above

Goku (Super Saiyan 4)
Earth
Buu Saga
Activate Specialty Skill

Super Saiyan 4

Yes

Voice Data (original story) No. 17

No

2nd Playthrough or above
Piccolo
Opponent
Planet
Saga
Specific Condition
Acquisition of Voice Data
1st Playthrough
Raditz
Earth
Saiyan Saga
Activate Specialty Skill
Yes

Voice Data (original story) No. 01

Yes
Kid Gohan
Earth
Saiyan Saga
Win after time limit passed

50 seconds

No, only Z-points
Yes
Goku
Earth
Saiyan Saga
Win within time limit

45 seconds

No, only Z-points
No

2nd Playthrough or above

Saibamen
Earth
Saiyan Saga
Remaining Health

2500 LP

No, only Z-Points
Yes
Nappa
Earth
Saiyan Saga
Specialty Skill Finish
No, only Z-Points
Yes
Vegeta
Earth
Saiyan Saga
Win after time limit passed

80 seconds

No, only Z-Points
No

2nd Playthrough or above

Frieza (2nd Form)
Namek
Frieza Saga
Equip Specialty Skill

Evil Training Uniform

No, only Z-Points
Yes
Frieza (3rd Form)
Namek
Frieza Saga
Win after time limit passed

60 seconds

No, only Z-Points
Yes
Frieza (Final Form)
Namek
Frieza Saga
Remaining Health

2000 LP

No, only Z-Points
No

2nd Playthrough or above

Cooler
Namek
Frieza Saga
Win after time limit passed

70 seconds

No, only Z-Points
No

2nd Playthrough or above

Meta-Cooler
Namek
Frieza Saga
Remaining Health

2500 LP

No, only Z-Points
No

2nd Playthrough or above

Dr. Gero
Earth
Android Saga
Remaining Health

2000 LP

No, only Z-Points
Yes
Cell (Imperfect Form)
Earth
Android Saga
Activate Specialty Skill

Fuse With Kami

Yes

Voice Data (original story) No. 07

Yes
Android 17
Earth
Android Saga
Activate Specialty Skill (pass)
No, only Z-points
Yes
Cell (Perfect Form)
Earth
Android Saga
Win within time limit

45 seconds

No, only Z-Points
No

2nd Playthrough or above

Super Buu
Earth
Buu Saga
Win after time limit passed

60 seconds

Yes

Voice Data (original story) No. 14

Yes
Dabura
Earth
Buu Saga
Remaining Health

2500 LP

No, only Z-points
No

2nd Playthrough or above

Broly
Earth
Buu Saga
Win after time limit passed

60 seconds

No, only Z-points
No

2nd Playthrough or above
Krillin
Opponent
Planet
Saga
Specific Condition
Acquisition of Voice Data
1st Playthrough
Saibamen
Earth
Saiyan Saga
Equip Specialty Skill

Fruits of Training

No, only Z-Points
Yes
Nappa
Earth
Saiyan Saga
Remaining Health

1500 LP

No, only Z-Points
Yes
Recoome
Namek
Frieza Saga
Activate Specialty Skill
No, only Z-Points
Yes
Captain Ginyu
Namek
Frieza Saga
Win within time limit

45 seconds

No, only Z-Points
Yes
Frieza (2nd Form)
Namek
Frieza Saga
Activate Specialty Skill
Yes

Voice Data (original story) No. 04

Yes
Frieza (Final Form)
Namek
Frieza Saga
Activate Specialty Skill

Kamehameha

No, only Z-Points
Yes
Cell (Perfect Form)
Earth
Android Saga
Equip Specialty Skill

Marron's Wish

No, only Z-Points
No

2nd Playthrough or above
Yamcha
Opponent
Planet
Saga
Specific Condition
Acquisition of Voice Data
1st Playthrough
Saibamen
Earth
Saiyan Saga
Win within time limit

25 seconds

No, only Z-Points
Yes
Dr. Gero
Earth
Android Saga
Activate Specialty Skill

Senzu Bean

Yes

Voice Data (original story) No. 06

Yes
Tien
Earth
Buu Saga
Specialty Skill Finish
No, only Z-Points
Yes
Vegeta
Earth
Buu Saga
Ringout victory
No, only Z-Points
Yes
Tien
Opponent
Planet
Saga
Specific Condition
Acquisition of Voice Data
1st Playthrough
Saibamen
Earth
Saiyan Saga
Win within time limit

30 seconds

No, only Z-Points
Yes
Nappa
Earth
Saiyan Saga
Activate Specialty Skill
Yes

Voice Data (original story) No. 02

Yes
Cell (Semi-Perfect Form)
Earth
Android Saga
Activate Specialty Skill (fail)
No, only Z-Points
Yes
Cell Jr.
Earth
Android Saga
Equip Specialty Skill

Chiaotzu's Wish

No, only Z-Points
Yes
Super Buu (Gotenks absorbed)
Earth
Buu Saga
Specialty Skill Finish

Ki Blast Cannon

No, only Z-Points
Yes
Yamcha
Earth
Buu Saga
Remaining Health

2000 LP

No, only Z-Points
No

2nd Playthrough or above
Uub
Opponent
Planet
Saga
Specific Condition
Acquisition of Voice Data
1st Playthrough
Goku
Earth
Buu Saga
Activate Specialty Skill
Yes

Voice Data (original story) No. 20

Yes
Majin Buu
Earth
Buu Saga
Win after time limit passed

60 seconds

No, only Z-points
Yes
Goku
Earth
Buu Saga
Remaining Health

2000 LP

No, only Z-points
Yes
Omega Shenron
Earth
Buu Saga
Equip Specialty Skill

Goku's Teachings

No, only Z-points
No

2nd Playthrough or above
Broly
Opponent
Planet
Saga
Specific Condition
Acquisition of Voice Data
1st Playthrough
Videl
Earth
Buu Saga
Win within time limit

30 seconds

No, only Z-points
Yes
Kid Trunks
Earth
Buu Saga
Specialty Skill Finish
No, only Z-points
Yes
Goten
Earth
Buu Saga
Remaining Health

2500 LP

No, only Z-points
Yes
Gohan
Earth
Buu Saga
Activate Specialty Skill (pass)
Yes

Voice Data (original story) No. 19

Yes
Gohan
Earth
Buu Saga
Win after time limit passed

60 seconds

No, only Z-points
Yes
Goku
Earth
Buu Saga
Equip Specialty Skill

Hatred of Kakarot

No, only Z-points
No

2nd Playthrough or above