TV Anime Guide: Dragon Ball Tenkaichi Densetsu
Talk

0
Share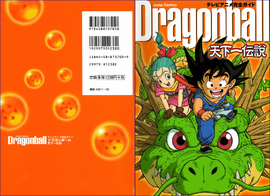 TV Anime Guide: Dragon Ball Tenkaichi Densetsu (ドラゴンボール 天下一伝説) is a guide released by Shueisha on July 2, 2004. The guide covers the original Dragon Ball anime series. It is the "sequel" to TV Anime Guide: Dragon Ball Z Son Goku Densetsu.
Description
In addition to information about the Dragon Ball anime, Dragon Ball Tenkaichi Densetsu contains a lengthy interview with Akira Toriyama, series organizer Takao Koyama, and the voice actress Masako Nozawa (Goku, Gohan, Goten, Bardock, and Turles' voice). It also contains short interviews with all of the voice actors for the main characters from both Dragon Ball and Dragon Ball Z: Ryō Horikawa (Vegeta's voice), Toshio Furukawa (Piccolo's voice), Mayumi Tanaka (Krillin and Yajirobe's voice actress), Tōru Furuya (Yamcha), Hirotaka Suzuoki (Tien Shinhan), Takeshi Kusao (Trunks), Hiromi Tsuru (Bulma), Takeshi Aono (King Piccolo/Kami), Yūko Minaguchi (Videl), Mayumi Shō (Chi-Chi), Hiroshi Masuoka (Master Roshi), Ryūsei Nakao (Frieza), Norio Wakamoto (Cell), Kōzō Shioya (Majin Buu), and Jōji Yanami (Narrator/King Kai).
Ad blocker interference detected!
Wikia is a free-to-use site that makes money from advertising. We have a modified experience for viewers using ad blockers

Wikia is not accessible if you've made further modifications. Remove the custom ad blocker rule(s) and the page will load as expected.