This article is about the
real world.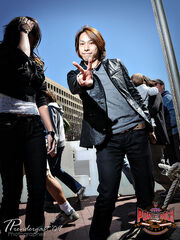 Takayoshi Tanimoto (谷本 貴義; born on April 14, 1975) is a Japanese vocalist, composer, songwriter, lyricist, and orchestrator from Kure, Hiroshima.
Biography
Takayoshi Tanimoto decided to work as a musician at the time he was a student in Kure National College of Technology. He moved to Tokyo at the age of 20, and started his activities as a studio musicians in 1996.
In 2001, he performed the "One Vision" theme for Digimon Tamers, and he also does the main theme for DarkKnightmon and Kiriha in part 2 of Digimon Xros Wars. He is the singer of two of the three opening songs for the anime Zatch Bell, "Kimi ni Kono Koe ga Todokimasu you ni" (lit. "I Hope My Voice Will Reach You") and "Mienai Tsubasa" (lit. "Invisible Wings"). He performed the opening of the Super Sentai series Jūken Sentai Gekiranger. He also performed the ending song for Transformers: Energon/Superlink, "CALLING YOU".
Takayoshi Tanimoto is known for singing the themes for Dragon Ball Kai: he performed the openings "Dragon Soul" and "Kuu-Zen-Zetsu-Go", and the ending theme "Yeah! Break! Care! Break!" The single of "Dragon Soul" was released on May 20, 2009, peak ranked 23rd on Oricon singles chart and remained for 11 consecutive weeks.[1][2] The single of "Yeah! Break! Care! Break!" was released on June 24, 2009, peak ranked 23rd on Oricon singles chart and remained for 6 consecutive weeks.[3][4] In 2016, he sang the 1st opening song for Super Dragon Ball Heroes along with Mayumi Gojo, and YOFFY.
He also worked on theme song for Shampoo Ōji and composed the opening song for Hakuōki.
Gallery
References
External links
Ad blocker interference detected!
Wikia is a free-to-use site that makes money from advertising. We have a modified experience for viewers using ad blockers

Wikia is not accessible if you've made further modifications. Remove the custom ad blocker rule(s) and the page will load as expected.