Talk:Dragon Ball Z: Budokai Tenkaichi 3
4,938pages on
this wiki
This is the talk page for discussing improvements to the Dragon Ball Z: Budokai Tenkaichi 3 article.
This is not a forum for general discussion about the article's subject.

Be polite
Assume good faith
No personal attacks
Do not bite the newcomers
Respond in a mature manner
Be welcoming
Maintain civility at all times

Article policies

No opinionated research for articles
Have a neutral point of view
Verifiability
Inaccurate?
Edit
Is it just me or is this article full of lies? I own the game and quite a few features are exaggerated or completely made up. Not to mention it still claims it isnt out yet, like most other articles on the wiki.205.209.70.128 11:50, 17 December 2007 (UTC)
Formatting problems
Edit
The references on this article are kind of a mess with all the superscript mixed in with the citations. I don't know enough about the game to match the references to their citations, but if someone does, I'd be happy to assist in formatting them properly. --

 talk contr 23:20, 30 October 2008 (UTC)
Cell games (night)
Edit
Has anyone else seen the picture from Budokai Tenkaichi 3 where Bardock's about to transform at the Cell games at night? Why wasn't the stage actually added to the game?
probably cuase they weren't there at night--Darknesslover5000 02:05, 11 March 2009 (UTC)
Character Chart
Edit
The chart says that there is a character titled "Vegeta (GT)" with SS, SS4, and SS4 Gogeta transformations when it is really a character called "SS4 Vegeta" with SS4 Gogeta as its only transformation, and it and Future Gohan's spots should be swapped. I suck at editing charts, so can someone fix this? GuyNamedSean 08:01, 15 June 2009 (UTC)
The page says that there are over 162 characters. What a strange way to say 163, 164, or however many characters there are. If the number isn't going to be exact, than over 160, or over 150 should suffice. --

.10X.Ka.me.ha.me.ha.....talk.....contrib. 09:13, 14 August 2009 (UTC)
The exact number is 161 (Nubescout 04:38, January 22, 2010 (UTC)).
Dialogue?
Edit
Should a separate page be made for the unique dialogues instead of putting them all in the trivia? Maslego 23:31, June 6, 2010 (UTC)
It should not be on the page, and it does not need it's own page. Our articles are brief summaries of their subject, and a brief summary does not require a list of all dialogue in the game. -- 10X.Ka.me.ha.me.ha.....talk.....contrib. 01:10, June 7, 2010 (UTC)
The image gallery runs outside of its scroll box and covers the remainder of the page, at least in some browsers. Should the box be removed, the gallery given its own page, etc.? -96.225.187.19 18:29, August 21, 2010 (UTC)
Which browsers does the scroll box not work for? -- 10X.Ka.me.ha.me.ha.....talk.....contrib. 19:31, August 21, 2010 (UTC)
Goku's Voice
Edit
Goku's voice in his Super Saiyan 3 (End) form has the wrong voice. In the series it was a deeper more serious tone, much like his Super Saiyan 4 form in the game and the series. They got his Super Saiyan 4 voice right, but they didn't get his Super Saiyan 3 voice right. It is just his normal Goku voice, no deepness to it at all. was this lazieness on the developers part? Ripto22475 22:02, August 15, 2011 (UTC)Ripto22475
Blast Combo
Edit
In BT2, the characters could only fire Blast 2 after a regular punch and kick combo and doing so putted them out of the Max Power mode. In BT3, for the Blast Combo, characters can fire Blast 2 after Heavy Finish/Heavy Crush, Rolling Hammer, and other combo tecnique but they can't use it after punch and kick combo and using Blast Combo doesn't put them out of their Max Power mode.
JeangabinTalkContrib
05:55, April 1, 2013 (UTC)
Right. So it's not a new move, it's just slightly different conditions. Also, it sometimes puts them out of max power, it just depends on the energy. Since this is a minor change, and definitely not a new attack, we should not be listing it as a new attack. -- 10X.Ka.me.ha.me.ha.....talk.....contrib. 22:40, April 1, 2013 (UTC)
Supreme Kai's and Piccolo's names at the tournament
Edit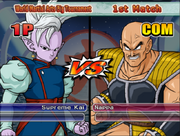 My BT3 is the PS2 version.
Here
says that their names are changed into Shin and Majunior, but in my game they don't.
User:Super Saiyan 7 Somebody
said that his version is the Wii and the names are ok. So maybe the names change only in the Wii version?
Can anyone with the PS2 version try this too?
Sandubadear (talk) 01:13, April 24, 2013 (UTC)