Talk:Future Trunks
4,940pages on
this wiki
This is the talk page for discussing improvements to the Future Trunks article.
This is not a forum for general discussion about the article's subject.

Be polite
Assume good faith
No personal attacks
Do not bite the newcomers
Respond in a mature manner
Be welcoming
Maintain civility at all times

Article policies

No opinionated research for articles
Have a neutral point of view
Verifiability
Does this make sense?
Edit
From Future Trunks Timeline
Especially the bolded bit. I haven't watched GT, but if there's no proper explanation for that, I'm going to re-write it, because it's nonsensical. We don't know much about the boys' strength from the end of the series, but it seems hard to believe that they never even managed SS2 (which was almost old news by the time Buu came around), and I see no reason to assume that they did not just because we didn't see it. Iuvenes 00:27, 20 February 2009 (UTC)
Sure it makes sense. And it's for the same reason that Gohan never reaches Super Saiyan 3, even though he reaches the level of Super Saiyan 2 earlier than Goku reaches the level of Super Saiyan. Not sure about the first part of this convo, about Trunks vs. Trunks though. --

.10X.Ka.me.ha.me.ha.....talk.....contrib. 20:38, 21 August 2009 (UTC)
If the fans would of agreed with Akira about making Gohan the main character then the things wouldn't have gotten so messed up. Seems like after Cell Saga, Akira just BSed his way to the end of the series, cause after Cell Saga, Gohan becomes a retard and nothing makes sense LOL. In my book DBZ ends at Cell Saga. Knoul 06:24, January 22, 2012 (UTC)
Is it right to have the Briefs/Vegeta family of the present listed in Future Trunks' profile box as family members, as in canon, he has never met them or lived with them, and they are not from the same timeline?
Maybe he didn't know all of them, but he sure did mention Dr Brief. When he was talking about the satelite. Jono R 15:03, 21 August 2009 (UTC)
What happens to Buu in the alternate timeline?
Edit
What happens is the andriods kill everybody on earth (who knows maby Cell absorbed them) the andriods (or Cell) leaves earth to find more things to kill. So Babidi never gets energy to power Buu.
That makes since, but consider the fact that maybe the androids or Cell killed Babidi in their rampage. Imortality is a curse. 14:19, 13 February 2009 (UTC)
I thought I'd read somewhere, (I could swear it was on this article...) That Toriyama had said that he had originally planned to end DBZ at the end of Cell Saga. But popularity stopped it. Jono R 15:02, 21 August 2009 (UTC)
Where did Future Trunks get his sword from?
Edit
In the movie Wrath of the Dragon Tapion gives Trunks his sword, in which features on Dragonball GT. But seeing as Tapion never appeared before the Androids attack in Future Trunks' timeline, How did Future Trunks exactly gain the sword that appears in Dragonball Z?
Super Sayian421 20:16, 28 March 2009 (UTC)
in "Combating Cell"
Edit
"he had not mastered the Super Saiyan state to become Full Power Super Saiyan, an even stronger state than Ultra Super Saiyan and a prerequisite for attaining Super Saiyan 2." Since when has being FPSSJ been a prerequisite for Super Saiyan 2?! Vegeta has been shown to go SSJ2 without ever becoming a FPSSJ right? And surely that'd mean you can't go SSJ3 without it either and yet Gotenks does also never having been FPSSJ. But the main problem I have is with the flase claim that FPSSJ is stronger than USSJ. THey say in their articles that USSJ is stronger as FPSSJ is not a power up from SSJ in anyway at all, it's just the form with no negative effects at all. But as I am new here I didn't want to go changing that kind of stuff myself... Also I just am not sure how I'd rewrite it.
Dissapearing Pictures
Edit
Why wont the picture i put up stay there? Every time i exit out the picture reverts back, the same goes with Cooler. Pleez write back
Because it doesn't solely focus on the character of the article. Your Cooler Picture is the Movie cover for Cooler's Revenge. Brolythelegend
22:43, May 2, 2010 (UTC)
future trunks & present trunks
Edit
after the cell defeat. did anying body told present trunks about what happen before he was born and when he was 1 year old about trunks future self at buu timeline when he was 8 year old. like trunks future self came two year before he was born and kill frieza & king cold and told his story about his timeline. then his future self came back to the past again in episode 116 in fight with the z fight. and then his future self save him at age 1 in episode 117. than train in 1 year time and fought cell and present trunk pull his future self hair in episode 152. and cell kill present trunks future self in episode 173 then came back to life by the wish and went back to his time. and the dbz movie 8 & 9 in broly & unbound bojack
Redundant?
Edit
'"'Future Trunks, or Trunks of the Future is the Saiyan and Human hybrid son of Future Vegeta and Future Bulma from the future."
Does it really need "from the future"? Gender Bender 02:07, August 25, 2010 (UTC)
For the all users of this wikia
Edit
PLEASE never CHANGE THE image that uploaded now for the article ok?
SSJ3 Section?
Edit
Think he needs the update. I know there probably isn't a lot of info about him going SSJ3 atm, but it still can't hurt
http://2.bp.blogspot.com/-O_5AjdC6W-s/TYDA6IFnDqI/AAAAAAAACYA/JS9PHl3XgbI/s1600/Cards3.jpg
There's the scan from the magazine confirming his transformation in Dragonball Heroes MKCSTEALTH 21:56, March 27, 2011 (UTC)
No, if you look at the site, you can see that under the section "Cardlist", SSJ3 Future Trunks is the last card on page 3. PabloDePablo 23:50, April 4, 2011 (UTC)
[1] Scroll down to the bottom, he is the last card on this page. PabloDePablo 23:56, April 4, 2011 (UTC)
Back to the future
Edit
Should the sction really be called that? It's kinda cheesy.
Jim.my.killer.9 ..... talk ..... contrib. 17:58, July 2, 2011 (UTC)
I know it's a bit cheesy, but it's a reference to one of the greatest Sci-Fi films ever, so that's a plus in my book! Lol.

Super Saiyan Goatee

Send me a message!

18:01, July 2, 2011 (UTC)
Yeah I guess so. :P
Jim.my.killer.9 ..... talk ..... contrib. 18:03, July 2, 2011 (UTC)
Profile Picture
Edit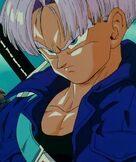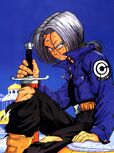 Hello! I would just like to ask if we could change the Trunks profile picture. I`ve come up with some suggestions that I think would be better than the original. --

CookiePirate
Talk
Contribs

17:20, July 6, 2011 (UTC)
Problem in trivia
Edit
I noticed a problem in the trivia- the first point says his favorite food is some kind of fried meat that I forgot the name of, but later on in the list, it actually says his favorite food is convience store bento. We need to find sources, and correct this problem. User:PabloDePablo- That's me! *wink* 17:14, January 5, 2012 (UTC)