Tapkar
Talk

1
5,165pages on
this wiki
Tapkar is a fighter from the West Quadrant of the universe.
Biography
In the Otherworld Tournament, he made it to the quarterfinals where he fought against Torbie from the South Quadrant.
Tapkar demonstrated his superior speed by running around the arena. When the fight began, Tapkar ran around some more, and was about to attack Torbie, when he became tired from running around so much, and he gave up. West Kai was a sore loser and complains that Tapkar only lost because the ring was too big, saying it was biased against little people.
Special abilities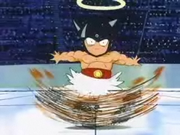 High Speed (Chō Supīdo Dasshu)[1]
References