Tekka (テッカ, Tekka) is the best friend of Pinich.
Appearance
Tekka's appearance varies based on the players preferences.
Biography
Tekka and Pinich summon Shenron to create a Jikuuichi Budokai (Strongest in Space and Time).
Techniques
Ki Blast: the most basic form of ki attack.
Kamehameha: The signature energy wave of the Turtle School originally invented by Master Roshi and later learned by many of Earth's fighters.
Forms
Super Saiyan
If the custom character is a Saiyan they can acquire the Super Saiyan form from the random NPC known as Sesamy.[1]
Fusions
Generic Fusions
Main article: EX-Fusion The Protagonist can use EX-Fusion to merge with any playable character.
Fusion with Pinich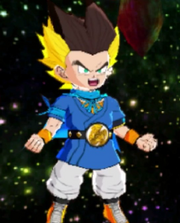 In the story mode, the Protagonist fuses with Pinich in order to fight Cellza.
Maxi Fusion
Main article: Maxi Fusion By fusing with Goku, Goten, Trunks, and Pan or 4 others the Protagonist can merge into the Maxi Fusion.

Gallery
Trivia
Tekka's name likely refers to the condiment made from boiled or fried root vegetables, fitting with the Saiyan-name pun scheme of vegetable names.
References
Ad blocker interference detected!
Wikia is a free-to-use site that makes money from advertising. We have a modified experience for viewers using ad blockers

Wikia is not accessible if you've made further modifications. Remove the custom ad blocker rule(s) and the page will load as expected.