This article is about the
real world.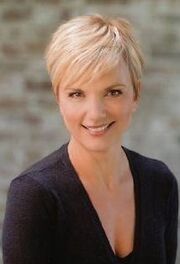 Teryl Rothery (born November 9, 1962, in Vancouver, British Columbia) is a Canadian actress and voice actress. She is best known for her role as Dr. Janet Fraiser on Stargate SG-1.
Biography
Rothery first became interested in a performing career at the age of thirteen, when she danced in the musical Bye Bye Birdie.
She voiced Mai and Mean Launch in the Ocean Group dub of Dragon Ball, and Raven in Dragon Ball: Curse of the Blood Rubies.
Some of her other roles include Baroness in various G.I. Joe media, Mrs. Goodfairer in The SandLot 2, MOM in Martin Mystery, Carol Bloom in Kyle XY, Sarah Patrick in The Killing Game, Layne Monroe in Hellcats, A-ko Magami in the Project A-ko franchise, and the Narrarator in Ogre Slayer.
She gave birth to a daughter, Londyn, on October 3, 2008.[1]
Gallery
References
External links