The Grand Finals
Talk

0
4,913pages on
this wiki
Dragon Ball Episodes
The Grand Finals
| | |
| --- | --- |
| English title | The Grand Finals |
| Japanese title | 決勝戦だ!!カメハメ波 |
| Rōmaji title | TKesshousen da! Kamehameha |
| Literal title | The Final Round! Kamehameha |
| Series | |
| Saga | Tournament Saga |
| Episode number (position in saga) | 26 (13) |
| Japanese airdate | August 20, 1986 |
| English airdate | September 24, 2001 |
| Previous episode | Danger From Above |
| Next episode | Number One Under The Moon? |
The Grand Finals (決勝戦だ!!カメハメ波, Kesshousen da! Kamehameha; lit. "The Final Round! Kamehameha") is the twenty-sixth episode of Dragon Ball and the thirteenth episode of the Tournament Saga.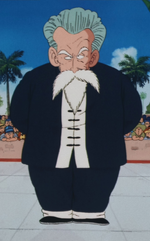 Jackie Chun and Goku start their match. Goku starts to tease Jackie Chun, and Jackie Chun tells Goku not to be disrespectful to his teacher. He quickly covers up for it. Yamcha says that since he knows Jackie Chun is not Master Roshi, he is confident Goku can beat him. Krillin does not think so, he explains that Jackie Chun beat the two of them with no effort. Goku asks if Jackie Chun is Master Roshi's brother, but Jackie Chun lies and tells Goku he is Master Roshi's cousin. Goku then tries a Kamehameha, but Jackie says that Goku can not handle it. They both charge up their Kamehameha, and the two waves clash. The entire ring is lit up, but both fighters seem to be okay.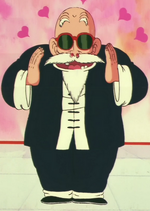 Jackie Chun then uses a Double Afterimage and Goku punches the image. Jackie Chun gets behind him and kicks him into the wall. Goku gets up and tries a Triple Afterimage. Since Jackie Chun only did a Double, he does not see Goku come down from above and Goku smashes him. Jackie Chun then walks around the ring as if he was drunk. He hears Bulma and Yamcha warn Goku that Jackie Chun is using the Drunken Boxing Technique. Goku tries to block, but it does not seem to work. Jackie Chun finally stops, but then Goku starts acting mad. He starts crawling around, and acting like a monkey. He blocks Jackie Chun's punches and trips him with his tail. On the ground, Goku starts to punch and kick him. Goku tells him he is using the Crazy Monkey Attack. Jackie Chun gets up and waves his hands around, gathering up energy for his next attack.
Goku vs. Jackie Chun
Techniques
Edit
Kamehameha: Goku and Jackie Chun.
Afterimage Strike: Jackie Chun and Goku.
Drunken Boxing Technique: Jackie Chun.
Crazy Fist: Goku.
This is the first episode in the entire series to have a fight that lasts for more than one episode.
This episode has first Beam Struggle in the series.