Dragon Ball Z Episodes
The Nameks Versus Frieza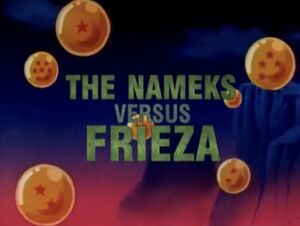 | | |
| --- | --- |
| English title | The Nameks Versus Frieza |
| Series | |
| Saga | [[]] |
| Episode number (position in saga) | 35 (35) |
| English airdate | October 11, 1997 |
The Nameks Versus Frieza is the ninth episode of the Namek Saga in the original Saban dub of the Dragon Ball Z series.
Summary
Gohan and Krillin covertly observe while Frieza and his soldiers bully the occupants of a Namek village. Three Warrior-type Namekians arrive to defend the village and manage to eliminate some of Frieza's weaker men. In the midst of the confusion, Moori destroys all of the scouters belonging to Frieza's soldiers, impairing their ability to locate anymore Dragon Balls. Dodoria easily dispatches two of the three Namek warriors and moves in to finish the third.
Meanwhile, Goku continues to train on his way to Namek and Vegeta uses his scouter to monitor Frieza's progress from afar.
Ad blocker interference detected!
Wikia is a free-to-use site that makes money from advertising. We have a modified experience for viewers using ad blockers

Wikia is not accessible if you've made further modifications. Remove the custom ad blocker rule(s) and the page will load as expected.