The Power of the Dark (暗黒の力; Ankoku no Chikara) is a crack in space-time technique which allows its targets to travel to another dimension used by Masked Saiyan in his Great Ape form.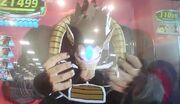 Masked Saiyan as an Oozaru can open a crack in space-time and send his opponents to the far reaches of space-time by grabbing him and throwing into it. The opponent is randomly selected, and the selected one is permanently removed until the match is over.
Video-game appearances
Edit
This technique made its debut and was named in Dragon Ball Heroes.
Ad blocker interference detected!
Wikia is a free-to-use site that makes money from advertising. We have a modified experience for viewers using ad blockers

Wikia is not accessible if you've made further modifications. Remove the custom ad blocker rule(s) and the page will load as expected.