The Super Soldiers Gather! (集まれ超戦士たち, Atsumare Chō Senshi-Tachi) is the 31th chapter of the Dragon Ball Super manga.
Summary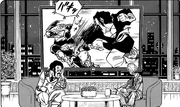 On TV, Mr. Satan appears on a late night talk show, discussing how he defeated Cell over 10 years ago and saved the world. Meanwhile, Krillin, Android 18 and Marron are at home and turn off the TV as Goku comes by for a visit.
He tells Krillin and Android 18 about the Tournament but leaves out the details of the consequences of losing. Krillin agrees to enter even though he's out of shape as he feels it will be fun. Android 18 refuses, not wanting to go through the trouble when there's no reward. Goku tells her that her that there will be a financial reward of 10 million Zeni per person for the victor. At first Android 18 believes that he may be lying but in the end decides to enter.
Goku asks if she knows the locations of Android 17 to which Android 18 tells him that he works at a Wildlife Sanctuary but is unsure of the name. Krillin advises Goku that he should go and ask Dende as he can see everything from up on The Lookout.
Goku goes to see Dende and Mr. Popo with them already knowing the details of the Tournament. Dende tells Goku that Android 17 is on an island to the South and uses his abilities to send The Lookout hurtling through the sky. On the way Goku ponders on why Android 17 turned into a good guy after he was brought back to life to which Dende replies that after his bomb was removed from inside him, he began to reclaim his humanity.
Dende also tells Goku of a boy nearby in a small village named Uub. He tells Goku that one day he should train him in order to use his power correctly. Goku tells him that it isn't really his thing but Dende responds that Uub is the reincarnation of Buu from many years before and Goku vows to not forget his name.
After pointing out the island that Android 17 is on, Goku lands on the island only to find it swarming with monsters. Goku suddenly realizes that he has no idea what Android 17 actually looks like. He hears the noise of vehicles nearby and goes to see who it is, assuming that one of the poachers is Android 17, he takes his mask and puts it on.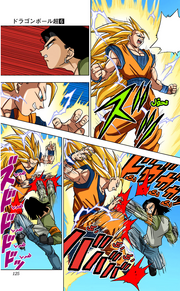 Android 17 appears before the poachers and easily fends off their attack. He attacks the masked Goku and is surprised when he defends himself. The two continue their battle as Goku transforms into a Super Saiyan 2 and Super Saiyan 3 but the battle ends when Goku tells Android 17 who he is.
Goku helps Android 17 with removing the poachers from the island then discuss the Tournament. Android 17 initially refuses, not wanting to leave the island. However, after the truth comes out, Android 17 eventually agrees to enter after believing that he owes Krillin for having the bomb taken out of him. He voices his desire to use the Super Dragon Balls in order to get a large Cruise Ship worth 5 billion Zeni and Goku promises to let him have his wish if he wins as he doesn't want anything.
Meanwhile, Mr. Satan having finished his interview, goes to see Buu only to find that he has fallen asleep, a hibernation that he enters once a year. He contacts Bulma and tells her the unfortunate news. Back at the Capsule Corporation, Beerus, Whis, Shin, and Vegeta discuss the last two members for their team before deciding that they should go with Gohan who can be counted on as long as he can regain his fighting instinct.
Goku, having been told the news, heads to see Piccolo who tells him to give him some Senzu Beans as declares that he is going to train Gohan up in time for the Tournament.
Appearances
Characters
Locations
Transformations
Battles
Anime and Manga differences
Trivia
Gallery