The Wizard's Curse (黒幕登場!!悪の魔導師バビディ, Kuromaku Tojo!! Aku no Madoushi Babidi) is the first episode of the Babidi Saga and the two hundred twentieth overall episode in the original dubbed and the uncut Dragon Ball Z series. The episode first aired on March 9, 1994. Its original American air date was October 15, 2001.
Summary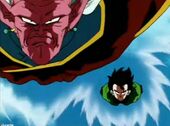 This episode begins with the Z Fighters following Spopovich and Yamu. Gohan and Kibito are still with Videl, but Videl decides not to go with Gohan, because she is too tired from flying, and she is too weak, so she heads back to the arena and Gohan also tells her to tell Chi-Chi and Goten what is going on and she agrees after learning that Gohan was the true hero that defeated Cell, not her father after Gohan apologizes to Videl for lying to her and Videl wishes Gohan good luck and also tells her to be a hero again and says to him that he will be waiting for her. Everyone back at the Tournament arena is tired of waiting for a fight, and is throwing tin cans at the tournament officials and the World Tournament Announcer.
Gohan and Kibito catch up with the rest of the Z Fighters. They find Babidi's spaceship, and watch as a fighter named Pui Pui comes out. Pui Pui tells Yamu and Spopovich that Babidi is pleased with them, while the Z Fighters are hiding, watching Babidi's ship. Then, two figures come out of the ship; Babidi and Dabura. Babidi takes the energy and to show his appreciation, he violently kills Spopovich. He then orders Pui Pui to destroy the fleeing Yamu.
Battles
Babidi vs. Spopovich
Pui Pui vs. Yamu
Trivia
Videl learns that Gohan was the true hero who defeated Cell, and not her father.
Gallery