There Is Planet Earth, Father! Frieza and King Cold Strike Back!
Talk

0
4,916pages on
this wiki
There Is Planet Earth, Father!
Frieza and King Cold Strike Back
There Is Planet Earth, Father! Frieza and King Cold Strike Back (That's Earth, Papa... Freeza and His Father Strike Back) is the fifty-fifth episode of Dragon Ball Z Kai. The episode first aired in Japan on May 2, 2010. Its American air date was February 17, 2011. Its Dragon Ball Z counterparts are "Frieza's Counterattack" and "The Mysterious Youth".
Many light-years away from Earth, what is left of Namek is a field of rocky fragments, with the occasional uprooted tree. There, among the ruins, Frieza, still alive but with less than half his body remaining, floats helplessly through space, cursing the fact that he was beaten by a monkey. King Cold's spaceship arrives, confirming Namek's destruction, and unable to find Frieza. King Cold refuses to believe that his son has been killed, or that someone could possibly be stronger than their clan. In his anger, he breaks a view window in his spaceship, sucking one of his men out into space. Another officer suddenly spots Frieza's remains. They rescue him, and take him to an operating room to try to save his life. They replace the missing parts of his body with cybernetic limbs and other enhancements. When he awakes, he tells his father they will head immediately to Earth, to kill the Super Saiyan.
Meanwhile, life on Earth goes on as usual. Chi-Chi pushes Gohan with his studies at home near Mount Paozu. In West City, Yamcha, Puar and Oolong are visiting Bulma at the Capsule Corporation HQ. Yamcha thinks Vegeta is out in space somewhere, chasing after Goku. Bulma admires Vegeta's guts to go after Goku, even though it is her spacecraft he stole to do so. Oolong suspects Yamcha's jealous of Vegeta. Mrs. Brief tells them Vegeta will have to return to Earth eventually as his fuel runs low. Bulma hopes he finds Goku. At Kame House, Krillin trains, shooting Kamehameha waves out to sea. One causes the sea to rush back in a tsunami wave, briefly inundating Master Roshi's island. He is frustrated that, even as one of the strongest Humans, he is nowhere near Goku's level. Even Roshi admits his dominance is long since past. Krillin wonders if Goku is training somewhere in space.
Indeed, it is not long before the spaceship Vegeta stole crash-lands on Earth by the Capsule Corporation HQ. He disembarks, and after a brief argument with Yamcha, tells the others he never ran across Kakarot in space. Bulma tells Vegeta he needs a shower; surprisingly, he follows her inside, though he is insolent about it. Puar says he is at Bulma's mercy. Vegeta is eager for Kakarot to return, so he can see the power of a Super Saiyan for himself. Vegeta's return to Earth brings Krillin to the Capsule Corporation HQ, but he is disappointed, hoping it was Goku returning instead. Vegeta calls from inside, not wanting to wear the pink shirt Bulma left for him while she washes his Battle Armor. She asks if he prefers to be naked. He comes out, wearing a pink shirt and yellow pants. Bulma says it suits him better than she imagined, while the others laugh, drawing a threat from the humiliated Saiyan prince. She recommends Vegeta stay at the Capsule Corporation HQ for now; they will know soonest when Goku returns.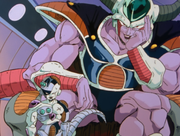 One day, Gohan is startled as he works on homework. He feels an insanely powerful ki approaching Earth. Unfortunately, it is not his father's. Krillin calls him, also feeling the approaching ki. They think it might be Frieza, though it should not be possible. Those on Earth who can comprehend ki quickly detect him as well. Tien Shinhan and Chiaotzu reckon a second powerful ki along with Frieza's. Piccolo cannot believe it. Vegeta gets angry; he warned Goku to finish Frieza off. On his planet, King Kai trembles in fear, and Gregory panics. King Cold's spaceship rapidly approaches Earth. He says they could likely blow it away without a second thought. But Frieza seeks to teach Goku a lesson. He detects Goku also on his way to Earth, and plans on springing a surprise on the Super Saiyan.
Gohan quickly changes into his Battle Armor and flies off, blowing off a new tutor Chi-Chi had arranged to meet with him that day. Krillin joins him along the way, knowing first-hand it is definitely Frieza's ki approaching Earth. He just does not know how. Vegeta, still fuming over Goku's apparent leniency, tries to figure out who the second ki along with Frieza could belong to. As they approach Earth, Frieza thinks back to his defeat at Goku's hands, and it fuels his rage. He tells his father that he is excited to have this opportunity.
Vegeta and Yamcha land where Vegeta believes Frieza will land. They are followed by Bulma in one of her aircraft. Bulma does not care how dangerous Frieza is, she wants to see him first-hand. Vegeta admits she has guts facing such danger so readily. They are joined by Tien and Chiaotzu, who are shocked that Vegeta is there. Vegeta warns them to conceal their power levels, as Frieza's men will likely have scouters. He then points out that Piccolo is already there. Finally, Krillin and Gohan arrive. Gohan lets them know he still does not feel Goku near. Piccolo alerts them that Frieza has arrived. King Cold's spaceship flies over their position, and lands behind a mountain some distance away. It is their worst fears come true: Frieza has followed them to Earth, and has brought company. Vegeta warns them to approach on foot so their scouters do not pick them up. Yamcha freaks when he realizes just how strong they are, especially with Gohan saying he can get even stronger. Piccolo and Vegeta realize that unless Goku arrives in short order, the end of Earth is at hand. They have no choice but to fight, even if they have no chance of winning.
King Cold, Frieza and their men disembark, setting foot on Earth. Frieza admires the landscape, and says with his "power-up" he is certain to be able to take out the Super Saiyan on his own. King Cold says they have three hours before he arrives. Frieza lays out his plan for revenge. He plans on mortifying Goku by snuffing out every living being on Earth before he arrives. Even with the billions in population on the planet, he says they should be able to accomplish the task. Frieza laughs, eager to finally have his revenge on Goku. As the Z Fighters make their way toward their position, Frieza gives the order to his men to extinguish all life on Earth. But right as the first group of soldiers take off, they fall back to the ground in pieces.
Suddenly, a young man floats down from the sky before Frieza and King Cold. Wearing a Capsule Corporation jacket and armed with a sword, the lavender-haired youth tells Frieza he has come to kill him.