Tommy
Talk

5
4,938pages on
this wiki
Tommy is a blind boy who wanders around the mountains. He encounters Majin Buu during the Majin Buu Saga.
Biography
Edit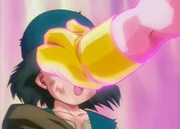 Tommy meets Majin Buu while he is walking on a mountainous area in order to find a place where he could buy milk. Disappointed that Tommy does not get scared and run from him, Majin Buu heals Tommy, making him able to see. Buu asks if he is hideous, Tommy answers that he does not know as he has never seen another person before, but he then asks Buu if he is from another planet. As a reward, Tommy gives Buu the coin he was going to use to buy milk. Majin Buu tries to eat it, but does not like its taste. Majin Buu then goes to a city and turns an old man into a carton of milk and gives it to Tommy to drink.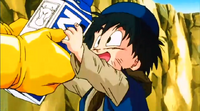 Tommy is the first of two characters whom Buu heals so they can get scared and run away from him, however, they like him because he healed them. The second is the puppy, Bee. Also, Tommy could have been the first person to show Buu Kindness and Vice-Versa, the second would obviously be Mr. Satan.
Tommy was either killed by Super Buu's Human Extinction Attack (although there is a possibility he was spared like Mr. Satan (Hercule) was because the Fat Buu even told Tommy "Buu Like you, Buu like you"), or when Kid Buu blew up the Earth, only to be revived by the Dragon Balls.
During the Imperfect Cell Saga, Krillin attacks Imperfect Cell to save a woman and her younger brother also named Tommy.
Tommy is the only known human to have consumed (unknowningly) a food item created by Buu's Henka Beam, a carton of milk that was originally an old man.
It is unknown if Tommy returned to being blind after being killed (by either the Human Extinction Attack or when Kid Buu blows up the Earth) and revived. He is probably still able to see, considering Buu's healing power was most likely permanent.
When Buu is finished healing Tommy, Tommy asks if Buu was from another planet, as he has other skin and hair than other people, but he could not have known that as he has never seen other people, though he could have known that from touching himself or other humans.