Towa
Talk

0
4,935pages on
this wiki
Towa (東和) is a female demon from the Demon Realm and a villain in the computer game Dragon Ball Online.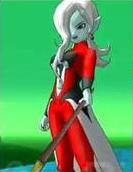 Towa has a major role in the game, as she and Miira are the main villains. She is believed to be the person who created Miira, and is possibly the true leader of the Time Breakers. Like Miira, Towa thinks she is better than everyone else. She is cold and cruel, as shown by her attitude toward the loss of Miira, and enjoys brainwashing people and will not hesitate to use the technology on anyone.
In the fourth Time Travel Mission, she is seen on Planet Namek and manages to possess Cui, Zarbon, Dodoria, Recoome and even Captain Ginyu as a frog.
Towa also gave Captain Bacterian the mission to gather energy for helping Cell-X to grow. When Cell-X became impatient, he left Captain Bacterian's dungeon for an abandoned cave behind a waterfall where other Cell-like creatures continue to help him collect energy.