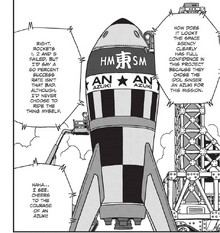 Twinkle 8 is a ship that An Azuki was set to be on in Jaco the Galactic Patrolman, despite not having any experience. It was piloted by Manpuku Okawari.
The ship malfunctions and falls with Tights, who was acting as a stunt double for An Azuki, inside. It is destroyed by Jaco to stop it from crashing into East City.
Ad blocker interference detected!
Wikia is a free-to-use site that makes money from advertising. We have a modified experience for viewers using ad blockers

Wikia is not accessible if you've made further modifications. Remove the custom ad blocker rule(s) and the page will load as expected.