Unnamed Blue Android
Talk

6
4,938pages on
this wiki
The Unnamed Blue Android is a muscular blue Android with red eyes. This android is seen as Future Trunks reveals Dr. Gero's story to Goku in the episode "Mystery Revealed" and in a flashback told by Master Roshi in "Double Trouble for Goku".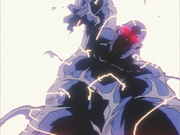 The Unnamed Blue Android is seen attacking Dr. Gero when it came out in the scientist's lab.
It may simply be Android 17 or Android 18, but since their appearance had not yet been revealed at that point, a generic figure may have just been used in the vision. It could also be another Android, that did not appear in front of the Z Fighters for some reason.