The Mighty Majin Hero is an unnamed Majin who appears in the second cinematic trailer for the computer game Dragon Ball Online. He is seen within the second group of promotional heroes.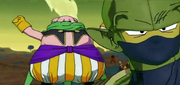 This Mighty Majin appears to be good friends with the heroes. He has a very similar body structure to Majin Buu, has two head appendages instead of just one and his eyes are small and round rather than just straight. He wears an almost identical black and yellow vest, but wears a large green scarf around his neck. He dons yellow gloves and purple boots, and his pants have yellow stripes. There is also a purple belt tied around his waist.
Techniques
Edit
Ad blocker interference detected!
Wikia is a free-to-use site that makes money from advertising. We have a modified experience for viewers using ad blockers

Wikia is not accessible if you've made further modifications. Remove the custom ad blocker rule(s) and the page will load as expected.