DBZFreak 81!
Edit
Hey I am Ian AKA DBZFREAK81. I am 16. My favorite Caracter of anything is Vegeta. Of course. I have been watching DB for 11 or so years now. I have dedicated a huge portion of my life to studying, researching and learning more about DBZGT. I am mostly a fan of the heroes.
My hobbies: DBZGT, Video games (who dosent), Staying in shape is very important, football, girls (ofcourse), I Rap and I go to a studio. Heres my facebook http://www.facebook.com/profile.php?id=100000479714580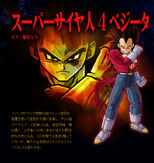 DBZ games I play.
Edit
Budokai 7/10 it was so accurate to the show.
Budokai 2 1/10 worst story mode, awesome music Kusuburu Hato ni hi wo tsukero :p
Budokai 3 10/10! It let me get focus specifically of Yamcha and Tien, two of my favorites, and the story mode was amazing/
Tenkaichi 6/10 decent.../:
Tenkaichi 2 10/10 AWESOME MUSIC and story mode.
Tenkaichi 3 4/10 seriously, whack chatacter roster, aweful story mode horrible music.
Infinite World 8/10 just a good game.
Sagas (ps2) 5/10 I didnt like the prototype android thing but it was decent.
Shin Budokai Burst Limit (360) 6/10 HUGE dissapointment the graphics are the best part I am mad with those graphics imagine how cool it could've been! They should make a BL2 seriously.
Raging Blast (360) 10/10 Awesome just awesome!
My fave heroes
Edit


Vegeta is awesome my favorite! I idolized him my whole life. He is a true def of a badass. He is respectful of his father and he is the prince of saiyans! He trains harder than any other Z-Fighter and he is very determined to beat Kakarot! He is also the most brilliant charachter ever made.

Goku, how can you hate him?! He is the strongest almost throughout all the series, he saved the earth many times, too many in fact! And he is very loyal to family, mankind and training. Hes a training monster!

Future Trunks is a great hero. He is very brave and he was taught by Gohan! And hes way more G than Fruity present Trunks! He is also the sun of the prince of saiyans. He is a true symbol of bravery.

Yamcha! He is not a meatshield so shut up haters! He has a coo personality and gets almost
as many girls as I. He is also a very good role model. He should have fought more! My favorite human!
Piccolo is great. He is loyal, brave, strong and he has a lot of common sense, the most.. He taught Gohan who later became the strongest warrior.
And he also has a good tolerance for utter stupidity and wimpyness.

Gohan is cool. Especially Ultimate Gohan. I like his attitude and the way he progressed throughout the series. He is not just a nerd hes a G!.
And he surpassed his dad 5 times! I dont like the way he ended tho. All nerdy and posh. Gohan, Gohan, Gohan, Why did u turn into such a little fruit?????? And we had such high hopes for you
Other fave goods in order are
Tien My 2nd favorite human
Chiaotzu He's Just awesome!
Android 18 (-;
Tiencha (I dont care if he's noncanon he's cool)
Goten (Kid only)
DBZFREAK81!
Edit
For my Android Arc Power levels click here [[1]]
Android 17!!- The coolest villan in my opinion. Total Gangsta good attitude. His sis is #18, a total cool girl too. But 17 just had to go bad huh? *sigh" Not a big fan of Super 17 though.

Cell of course! Considering he knows all the Z-Fighters and villans' moves he makes for 1 heck of a fighting monster! I dont like the way he died tho really. But at least he still retains his awesomeness!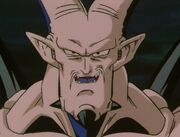 Omega Shenron is epic! He is the strongest enemy and the coolest because he didnt give a crap about anything. And he also managed to defeat the prince!
Other fave bads
Jeice only cool ginyu member