Yuzura Seal of Approval


Yuzu approves of this user.
Zangetsu-jin is a self-proclaimed history/strategy buff, and a fan of several animes. Aside from Dragon Ball/Z/GT, he holds series such as Code Geass, Neon Genesis Evangelion, and Fullmetal Alchemist among his favorites.

Also known by a name of one of his previous accounts (or simply Rick), he can be found studying, running, or playing games on Steam (including TF2, Total War, Garry's Mod, etc.) in his spare time. He is nonetheless an aspiring editor who contributes to a few select wikis, and hopes to become more helpful and knowledgeable in the future.
He is available for contact via talk page if it becomes necessary for whatever reason. He requests, however, that no emails be sent to his address, since Wikia's notification system is only getting worse and he will not be able to see them.
Signatures
Edit
At this time, Zangetsu-jin only uses one signature across the wiki:
Zangetsu-jin's talk contribs stats
If one should wish to have a signature that is remotely similar to the above, he/she could possibly use the aforementioned talk page to express their interest.
Guestbook
Edit
Zangetsu-jin's talk page is open to signing by anybody who wishes to partake. His only suggestion is that anybody who is willing to do so should sign with three tildes.
Blaze.The Cat. . . Talk to the Cat . . . What the Cat Does.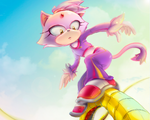 01:05, March 30, 2013 (UTC)