Directory: Characters → Saiyans Directory: Characters → Villains → DB villains Directory: Characters → Z Fighters
I have made my user page like that of a character, to use my creative mind. I hope you enjoy.
Great Ape
Edit
Main article: Great Ape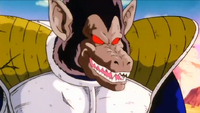 This is Noah's least used transformation. He was seen within this form twice in the series. The first time Noah transformed into this huge ape like monster, he used a Power Ball resembling similar effects of the moon. The second time when he transformed, was in GT when Bulma used the Blutz Wave Generator that she created for him, because he was missing his tail. His size is paramount, his ears are keen enough to hear a pin drop from a mile away. His eyes are big and red. He has sharp teeth, and a large "U" shaped mouth.
Unlike Goku and Gohan, Noah retains his rationality when transformed. He is much more powerful than his normal form when transformed, and easily crushed Goku. Noah claimed that the power of the Great Ape form is ten times that of the his base form. If this math can be applied to the power levels reported by various sources, his power level in this form would be around 4,000.
Super Saiyan
Edit
Main article: Super Saiyan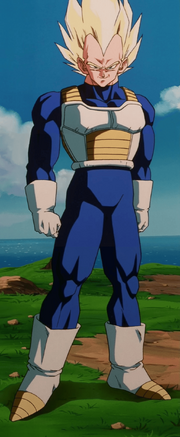 As Imperfect Cell was absorbing innocent people, Noah challenged him. In his base form, Noah was close to being even with the monster. When he revealed this form, Cell became completly outclassed, and was easily pummeled, showing Noah's incredible power, brought on by this form. Noah used this form to fight imperfect Cell again, however upon his absorbtion of Android 17, Cell thrashed Noah with ease, nearly killing him with no effort, and Noah was thought to be dead after being hit by the Big Bang Crash. After that this form was over-shrouded by the branch forms, and later the higher forms.
Ascended Super Saiyan
Edit
Main article: Ascended Super Saiyan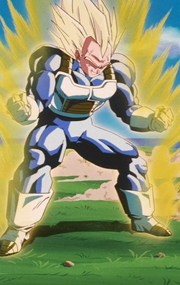 After his rigerous training while he was thought to be dead, Noah acheived this form. He was able to land several blows to Semi-Perfect Cell, with none being dealt to himself. However, upon Cell's ascension to Perfect form, Noah knew he needed to use the next branch of the Super Saiyan form. He also used this form to combat Babidi's followers, so that he could conseal his true power in his Super Saiyan 2 form. However, to stand a chance against Majin Buu, he needed to transform further, to his full power.
Ultra Super Saiyan
Edit
Main article: Ultra Super Saiyan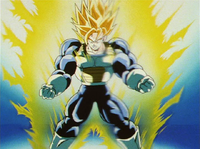 Noah unlocked this form soon after the previous one. He trained in it much, to the point of having mastery over it's drawbacks, and was able to completly remove the negative aspects. He was able to fight slightly more than evenly with Cell, and dodging his attacks. However, the ki consumption later caught up to him, and caused Noah to use all of his energy in one final Super Kamehameha on Cell. While his right arm and left leg were destroyed, Cell regenerated, and continued the power struggle with Noah. However, Noah's energy was at an absolute low, and he reverted back to his Super Saiyan form. This form is not seen again.
Super Saiyan 2
Edit
Main article: Super Saiyan 2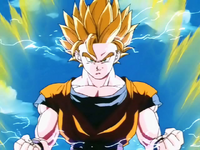 After his ascended form proved no help against Majin Buu, Noah was forced to reveal this form. This was nearly enough to combat evenly, and Noah made some real damage to Buu. After being caught in Buu's Angry Explosion, Noah was damaged severely, but pressed on in the battle. While his energy was at a regular point, the fatigue of the long battle had caused Noah to lose speed, and was knocked out after being hit by a Vanishing Beam and launched into a large mountain. The battle ended.
After Super Buu had absorbed Gohan, Noah challenged him in this form. While Noah avoided attacks from Buu, he could not land any. This forced Noah to use his Super Saiyan 3 form, which proved far more successful.
Noah used this form to begin his battle with Super Baby Vegeta 2. He was forced to used the next form after this one was not effective.
Super Saiyan 3
Edit
Main article: Super Saiyan 3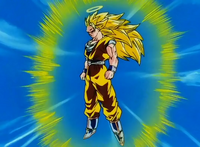 Noah achieved this form in the seven year gap between the Cell and Buu sagas. This made him the most powerful living being on the planet. Noah first used it when combating Super Buu(w/Gohan). It allowed him to fight Buu quite evenly, and used this advantage to attempt to save the absorbed ones, thinking that if he could simply leave Buu too beaten down to fight back. This chance did come when Buu was hit by Noah's Super Kamehameha. But, Buu's Revenge Death Bomber damaged Noah to the point that te battle was ended.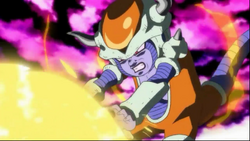 My favorite pages
Edit
Add links to your favorite pages on the wiki here!
Favorite page #2
Favorite page #3