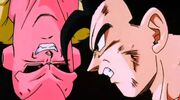 Yo, this is Meta Cooler's page. I just wanna say a thing this DBZ is the best series ever and just awesome also epic I mean really.So anyway you are welcome to my page and I came to wiki to improve it since I know alot about DBZ, and you should be thanking Akira Toriyama for making such a great series.


Meta Cooler'
<---- Me
My Favourite characters are: (top 6)
1,SSJ4 Gogeta
2.Janemba
3.Kid buu
4.Meta Cooler (Ofcourse!)
5.Frieza
6.Vegito/Super Vegito
_________________
1.My favourite DBZ movie is Fusion Reborn and The Return Of Coolers.
2.My favourite DBZ episode is from 252-255.
3.My favourite film is: History of Trunks and Bardock: The father of Goku.