About me:
Edit
Hi, I am SaiyanElite. Nicknamed Bob or Raditz by some, a very huge fan of the Dragon Ball series. I know everything there is to know about Dragon Ball and Dragon Ball Z, so if there's anything you wish to know or do not understand about the series, the wiki, or something else, feel free to leave me a message!
Signatures
Edit
These are my signatures: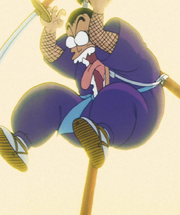 Dragon Ball was a fantastic, with humor filled anime. Lots of crazy stuff happened in the series, like when Goku slapped Bulma's panties, that cracked me up. And the fight between Goku and Ninja Murasaki, was in my opinion the most epic fight in all of Dragon Ball! (Power Pole) I really enjoyed to watch Goku battle against the Red Ribbon Army, eventually ending up destroying their base with greatest ease. The Tien Shinhan Saga, where Goku met and battled with the Crane Hermit's strongest pupil, and technically lost from him after a series of events was really entertaining to watch, Tien Shinhan became one of my favorite heroes almost immediately.
After that, the King Piccolo Saga began! Two of my favorite characters, Tambourine and Yajirobe first appeared here. It was also the first time for Krillin to die, that was pretty shocking. Tambourine's killing spree of World Martial Arts Tournament contestants was an entertaining part of Dragon Ball. I liked seeing all the characters of the past episodes battle Tambourine. Goku's final battle against King Piccolo was also was the climax of the King Piccolo saga, which was great! It lasted long but the time watching it, was it all worth, the best finisher I saw in the entire series, through the gut (how he managed to bear one last child with most of his gut missing is a miracle itself)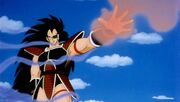 I found this anime different from the previous. The battles are way more HAAAAAAH and KI-BLAAAST!-like than the usual material arts.
I enjoyed the Saiyan and Frieza Sagas the most. The Saiyan saga starts with the introduction of Goku's older brother, Raditz, who is my all time and absolute favorite character. This sadistic lil' Saiyan wants his bro to join him that bad, he kidnaps his own nephew, now that's brotherly love. Then Nappa appeared and that awful, boring Vegeta killed the awesome bald-headed man. How would Dragon Ball look if Nappa and Raditz had the role of whiny Vegeta instead?
The Frieza Saga featured many of my favorite peoplez, and the battles were even greater than the Saiyan Saga. If only the battles of Cui, Dodoria, Burter, Guldo and Ginyu took a few episodes longer and Frieza's 200-episode fight much and much shorter, then it would be hella better. But that's just What-If? talk.. :(
One of my most favorite episodes of Dragon Ball Z is episode No.36: Picking Up the Pieces. Yajirobe gets yelled at by Bulma for letting his friends die, making Yajirobe furious and making him lie and Blarging out all sorts of things. Also because of all the flashbacks and all the sadness for the loss of their fallen friends this is a must-see episode, all the sad music gives it an extra sad effect. For the ones with tiny hearts this would probably be overwhelming!
Gt isn't my favorite part of Dragon Ball, it's really overrated and very unnecessary, fighters stronger as Kid Buu appear whom they've already used the Spirit Bomb upon. They used it again at Omega Shenron, this time with energy gathered from the whole universe (while it's the exact same size). In GT they just overuse everything they already used. Also most of the original Z-Fighters aren't in action anymore. That's the reason I dislike it. The only thing what is a bit viewable is the Super 17 Saga, where all of the past villains escape Hell. It's fun to see some of them back in action again. Like Nappa, Android 19, the Saibamen etc.
Favorite quotes
Edit
1.
"Ah! The princess of all Saiyans!"
— Turles to Vegeta
2.
"That was some quick thinking there, now how 'bout some quick kissing?"
— Roshi to Bulma
3.
4.
"I think you should be feeling Ugly and banned."
— SP Gohan
5.
"GAH, my eyes!"
— SP Gohan when he sees bad grammoor
My Favorite Characters - in order:
Edit
Heroes/Good Guys
Edit
Characters I dislike
Edit
Submit your vote!
What do you think of SaiyanElite's User page?